Majestic Memories Photography provides several different "Majestic" packages for your high school senior. Each with an emphasis on providing amazing prints for parents and grandparents, and an adequate supply of wallets for friends. Our packages may also be modified and added to, which enables us to meet your exact needs, wants, and budget.

When shooting high school seniors, our goal is to capture their individuality and personality. Therefore, we offer unlimited clothing changes and do not limit the photo shoot to an exact time frame. Throughout the shoot, hundreds of photos will be taken to insure that we capture the exact shots you are looking for.

We encourage seniors to bring along props to their session. Sports equipment and team jerseys, letter jackets, trophies and awards, band instruments, pets, or their vehicles are just a few examples.

Please contact us if you have any questions. We look forward to hearing from you.
---
Senior 8-Picture Folio
(Simulated Leather)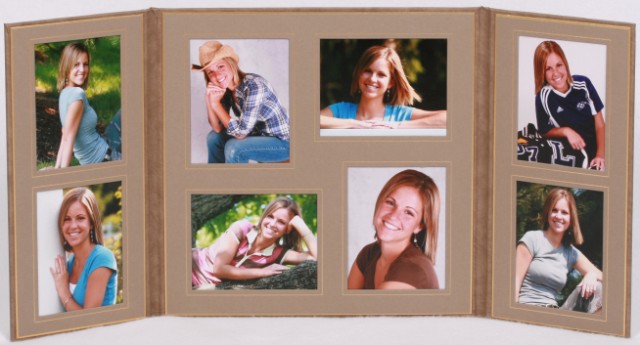 Packages
A standard $40 sitting fee will be added to every senior package. A $10 travel fee may also be applied for on-location shoots.
Ultimate Majestic Senior I
Qty

Size
1.................
16x20 Custom Collage
1.................
11x14
4...............
8x10
8...............
5x7
112...............
Wallets (up to 5 poses)
1.................
Senior 8-Pic Folio
Price..........
$300.00
(23% Off - Save $89.00)
Majestic Senior II
Qty

Size
1.................
11x14
2.................
8x10
8.................
5x7
96...............
Wallets (up to 4 poses)
1.................
Senior 8-Pic Folio
Price..........
$230
(13% off - Save $35.00)
Majestic Senior III
Qty

Size
1.................
11x14
1.................
8x10
4.................
5x7
80...............
Wallets (up to 4 poses)
1.................
Senior 8-Pic Folio
Price..........
$181
(11% off - Save $23.00)
Majestic Senior IV
Qty

Size
1.................
8x10
2.................
5x7
80...............
Wallets (up to 4 poses)
Price..........
$91.00
(10% off - Save $10.00)